Dental Crowns in Aspen, Colorado
Restoring your smile quickly after a dental problem has occurred is an important part of helping you maintain the perfect smile that you love. At Aspen Smile Dentistry, we understand that dental problems happen. We offer beautiful and modern options to restore your smile to its previous form.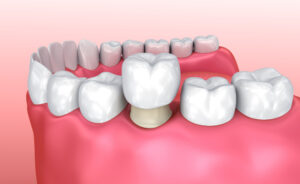 What is a crown?
A dental crown is a custom-made tooth cap that can be used in different situations to revive the appearance and function of a tooth. Whether you experience a major cavity removal that can't be treated like a normal filling, or you have lost a tooth and are going through a dental implant procedure, a crown can be used. 
Crowns are made out of a strong dental material called porcelain. These porcelain caps or crowns give off the look and the feel of a natural tooth. To make a crown, the dental professional works closely with you to obtain an impression of your smile that helps determine the width, length, and size of the new tooth. We also help you decide on the shade of your new tooth to ensure the crown will blend in with your natural smile perfectly. 
If you need a dental crown, we will discuss measurements and shade and then send a mold of your smile to a dental lab to have it professionally made. Once the crown is made, we will bond it to either the remainder of your tooth or the dental implant.
Benefits of Dental Crowns
When it comes to the appearance and health of your smile, dental crowns are a great restorative option. Below we have listed the different benefits of receiving a crown when dental work is needed: 
When missing a tooth, the lack of stimulation that goes into the jaw bone and surrounding tissues can cause deterioration or even tissue or bone loss. Receiving an implant with a stunning dental crown made specifically for you will not only increase the confidence you have in your smile, but also your overall oral health. 
When a tooth has a major cavity and the cavity gets removed, only a small portion of the natural tooth remains. If left uncovered, the remaining portion of the tooth is more susceptible to decay and possibly needs extraction in the future. A dental crown can help seal the natural tooth and prevent further decay.
Dental crowns are made out of porcelain giving them the same sheen and appearance as your natural teeth. Porcelain also prevents any decay or cavities from occurring. With a crown in place, you won't have to worry about future cavities damaging your new tooth.
Ask our Professionals
If you are missing a tooth and want to look into your options to restore it, including a dental implant with a crown, please give us a call. Generally, we suggest dental crowns when we recognize they are needed due to cavities that we remove, but to learn more please contact our Aspen, Colorado office, Aspen Smile Dentistry, to speak with a professional today.